Unleash Unprecedented Surveillance Capabilities with HIKVISION DS-96256NI-I16 256-ch 3U 4K Super NVR
Unleash Unprecedented Surveillance Capabilities with HIKVISION DS-96256NI-I16 256-ch 3U 4K Super NVR
In today's interconnected world, ensuring the safety and security of your surroundings is of paramount importance. HIKVISION, a global leader in cutting-edge security solutions, takes surveillance to new heights with their revolutionary DS-96256NI-I16 256-ch 3U 4K Super NVR. Packed with advanced features and unparalleled performance, this NVR is set to redefine the way you monitor and protect your valuable assets.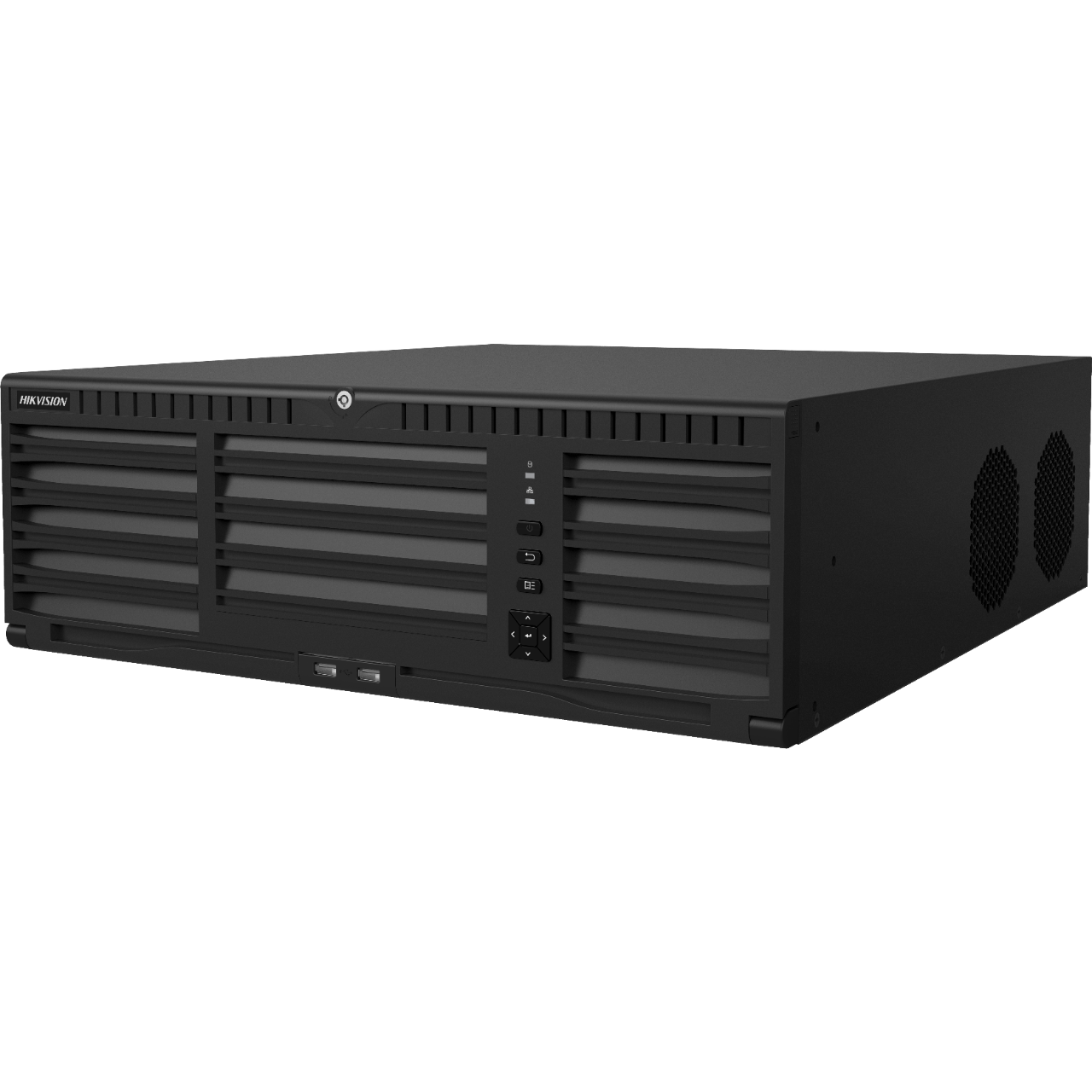 Limitless Connectivity for Unmatched Surveillance
The HIKVISION DS-96256NI-I16 NVR sets a new standard in surveillance capabilities by allowing you to connect up to 256 IP cameras. Whether you need to monitor a small office space or a sprawling industrial complex, this NVR has you covered. With its impressive incoming bandwidth of up to 768 Mbps, you can rest assured that all your IP cameras will be seamlessly connected, providing you with comprehensive coverage and peace of mind.
Crystal-Clear Video Outputs for Enhanced Visibility
Experience the power of high-definition video with the DS-96256NI-I16 NVR's 2 HDMI (different source) and 1 VGA interfaces. These interfaces support stunning video outputs, allowing you to monitor your surveillance footage with unmatched clarity. Whether you need to analyze minute details or identify critical events, the DS-96256NI-I16 NVR ensures that every frame is captured in incredible detail, empowering you with the information you need.
Specialized Cameras for Enhanced Precision
The DS-96256NI-I16 NVR is compatible with a range of specialized cameras, including people counting cameras, ANPR (automatic number plate recognition) cameras, and fisheye cameras. These advanced cameras offer enhanced functionality and precision, enabling you to tailor your surveillance system to your specific needs. With HIKD's expertise and HIKVISION's technological prowess, you can take advantage of these specialized cameras to elevate the effectiveness and accuracy of your surveillance efforts.
Advanced Technology for Seamless Monitoring
Monitoring your surveillance footage in adverse network conditions can be a challenge. However, the DS-96256NI-I16 NVR's advanced streaming technology ensures smooth live viewing even in poor network conditions. Experience uninterrupted access to your surveillance feeds, allowing you to stay informed and responsive at all times.
Robust Data Storage and Protection
Data is a critical asset in surveillance, and the DS-96256NI-I16 NVR prioritizes its security and reliability. With support for RAID 0, 1, 5, 6, 10, and N+1 hot spare configurations, your data is protected against loss and corruption, ensuring its integrity and availability. Rest easy knowing that your valuable footage is stored safely and can be accessed whenever you need it.
HIKD: Your Trusted Partner in HIKVISION Solutions
HIKD, a key collaborator of HIKVISION, plays a crucial role in delivering innovative security solutions to the market. With their deep understanding of the industry and commitment to customer satisfaction, HIKD is an essential partner for businesses seeking top-tier security solutions. Partnering with HIKD grants you access to their extensive range of HIKVISION products and expertise, ensuring that you have the best-in-class solutions to address your security needs.
Embrace the Future of Surveillance
The DS-96256NI-I16 256-ch 3U 4K Super NVR represents the pinnacle of surveillance technology. With its unmatched connectivity, crystal-clear video outputs, specialized camera compatibility, advanced streaming capabilities, and robust data storage options, this NVR empowers you to protect what matters most. Experience the power of HIKVISION and the reliable partnership with HIKD to elevate your surveillance efforts and embrace the future of security.
For more information about the HIKVISION DS-96256NI-I16 NVR and other cutting-edge security solutions, visit HIKD's website at [insert website link] or contact them at sales@hikdistribution.com. Trust in HIKD's expertise and HIKVISION's industry-leading technology to provide you with exceptional products and unwavering support, revolutionizing your surveillance experience.