Elevating Surveillance to New Heights: Introducing the HIKVISION iDS-96128NXI-I16 128-ch 3U 4K DeepinMind Super NVR
Elevating Surveillance to New Heights: Introducing the HIKVISION iDS-96128NXI-I16 128-ch 3U 4K DeepinMind Super NVR
In the ever-evolving landscape of cutting-edge surveillance technology, HIKVISION once again takes the lead with its latest innovation, the iDS-96128NXI-I16 128-ch 3U 4K DeepinMind Super NVR. Representing a monumental leap in security solutions, this state-of-the-art Network Video Recorder (NVR) boasts intelligent analytics driven by a deep learning algorithm, redefining the capabilities of modern surveillance.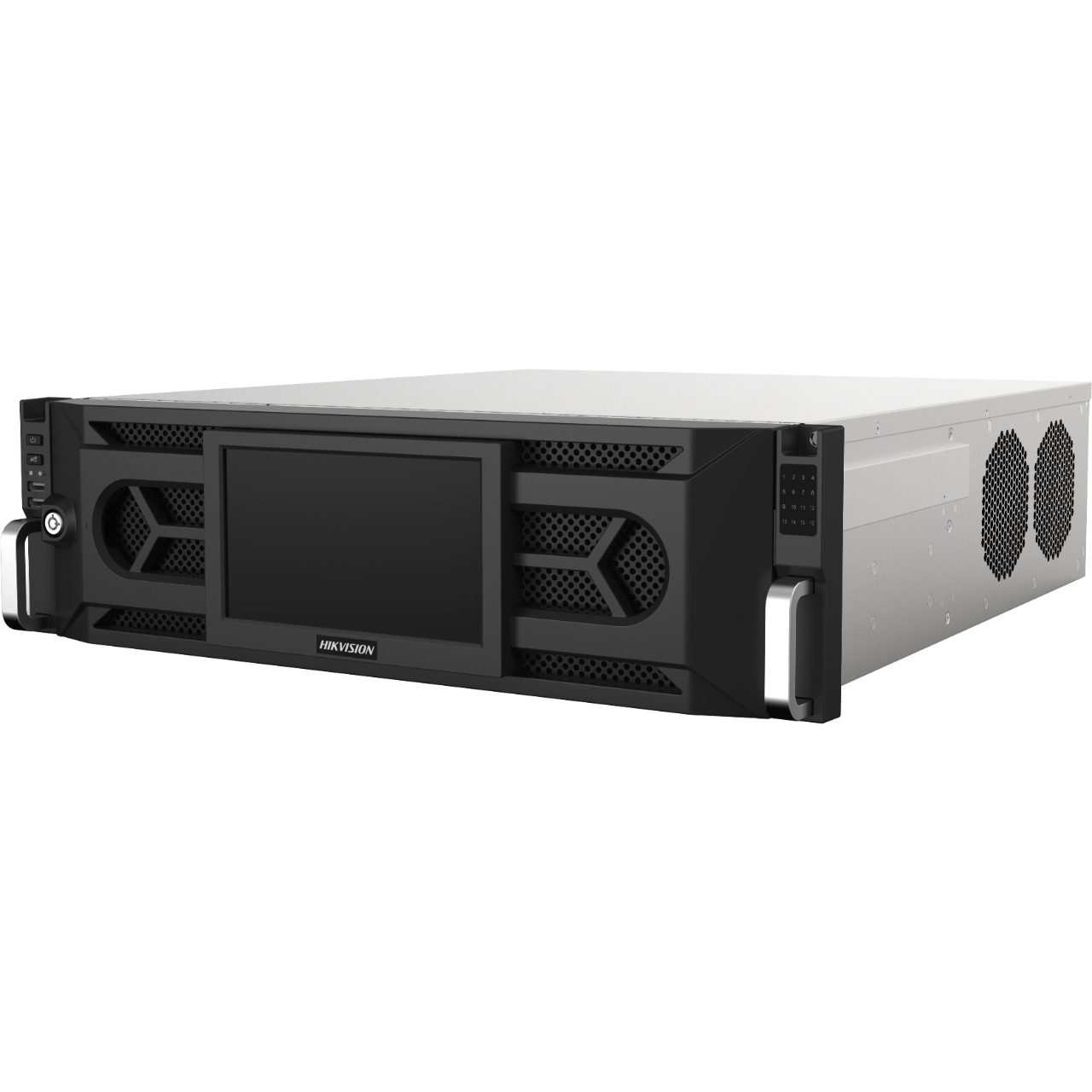 Intelligent Analytics: Empowering Proactive Security
The HIKVISION iDS-96128NXI-I16 DeepinMind Super NVR is at the forefront of intelligent analytics. Leveraging the power of a deep learning algorithm, this advanced device offers up to 96-ch perimeter protection, detecting potential threats with unrivaled accuracy. Experience the peace of mind that comes with a surveillance system that anticipates and neutralizes potential risks in real-time.
Facial Recognition and Video Structuralization: Precision Unveiled
Unlock the potential of advanced facial recognition with the HIKVISION iDS-96128NXI-I16 NVR. With up to 48-ch facial recognition for video streams or an astounding 96-ch facial recognition for face pictures, this cutting-edge solution ensures only authorized individuals gain access to sensitive areas. The NVR's video structuralization capabilities further enhance situational awareness, providing invaluable insights for informed decision-making.
Throwing Objects Detection and Unparalleled Connectivity
The iDS-96128NXI-I16 NVR transcends conventional surveillance systems with up to 40-ch throwing objects from building detection. This groundbreaking feature identifies potential threats such as thrown objects, fortifying security measures to safeguard public spaces and critical assets. Furthermore, with the capability to connect up to 128 channel IP cameras, this NVR offers a comprehensive and scalable surveillance ecosystem to meet even the most demanding requirements.
Seamless Decoding and High Bandwidth
Witness superior video decoding with up to 20-ch 1080p decoding capability, ensuring smooth and high-quality playback of crucial video footage. With up to 512 Mbps incoming and outgoing bandwidth, the iDS-96128NXI-I16 NVR ensures seamless and uninterrupted transmission of critical surveillance data, even in high-density environments.
Reliability and Redundancy: Safeguarding Uninterrupted Security
HIKD's pivotal role as a trusted partner is evident in the iDS-96128NXI-I16 DeepinMind Super NVR. Equipped with a redundant power supply, this NVR guarantees continuous operation, eliminating the risk of downtime and ensuring security remains uncompromised at all times.
HIKD: The Cornerstone of HIKVISION's Success
As a vital distributor of HIKVISION products, HIKD plays an integral role in driving the success of HIKVISION's groundbreaking solutions. The iDS-96128NXI-I16 NVR is yet another testament to the dynamic partnership between HIKD and HIKVISION, bringing cutting-edge security technology to businesses worldwide.
Conclusion: A Glimpse into the Future of Surveillance Technology
The HIKVISION iDS-96128NXI-I16 128-ch 3U 4K DeepinMind Super NVR is an embodiment of HIKVISION's relentless pursuit of innovation and excellence. With its intelligent analytics, facial recognition capabilities, and seamless connectivity, this NVR sets new standards for security solutions. As a critical partner, HIKD ensures that this groundbreaking NVR reaches customers worldwide, empowering businesses with unmatched surveillance capabilities. Embrace the future of security with the iDS-96128NXI-I16 NVR and experience unparalleled peace of mind.
Note: For more information or to acquire the HIKVISION iDS-96128NXI-I16 NVR, visit HIKVISION's official website or contact HIKD directly.